If you're looking for a safe, reliable and undetectable way to monitor your kids, you can use Spyfer as a free parental control. With its many features, Spyfer will, in fact, allow parents to have access to all the activities performed by his child on his phone. This way, you can better watch your children. But also protect them from the possible dangers that lurk behind social networks or behind the Internet. Easy to use, Spyfer will become a formidable ally when it comes to ensuring the safety of your children. So, concretely, what are the possibilities that this free spyware for phone offers us in terms of parental control?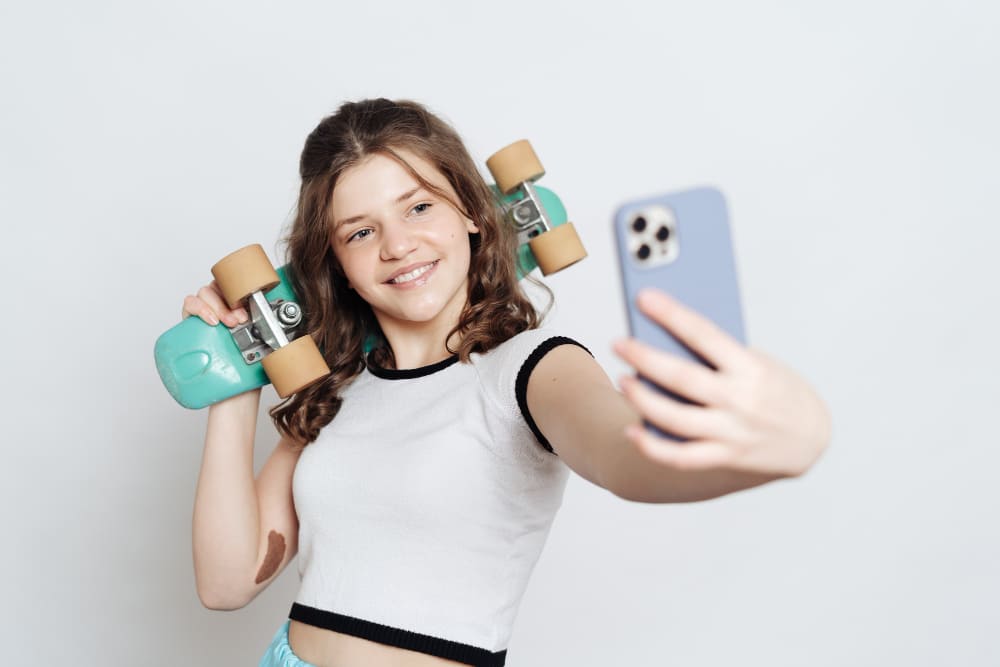 WATCH YOUR CHILDREN FOR FREE
With Spyfer, you can watch your children for free. Unlike other parental control softwares that offer monthly or annual subscriptions, Spyfer makes its features available for us for free! Thanks to Spyfer, we can easily keep an eye on our child's activities, without it costing us anything.
MONITOR YOUR CHILDREN ONLINE
The free parental control software Spyfer allows us to monitor children online. In other words, we have the possibility to look at all the activities performed by children on the Internet, whether on social networks, on Google or on other search engines. You will be able to spy on your children with discretion and block sites or content that you think is inappropriate.
FREE CHILD SURVEILLANCE SOFTWARE
Spyfer is a free child surveillance software. It includes all the features that will allow you to protect your child from possible dangers. In addition to the ability to monitor social networks, internet browsing, monitor SMS messages and calls, Spyfer software also allows you to view your child's mobile phone with a geolocation feature.
WHY DO WE HAVE TO PUT A FREE PARENTAL CONTROL ON OUR CHILDREN'S PHONES?
With the development of smartphones, the Internet and social networks, a parent today has a great difficulty monitoring his children online. We no longer know what children do on the Internet, what kind of sites they visit, with whom they talk on social networks, what they share, what they send, etc. So, with a free parental control software, the parent has the possibility to impose certain limits on their child's use of the Internet. Parental control will allow parents to block certain websites, such as pornographic websites or those that invite online betting. Parental control software like Spyfer will also help parents monitor their children for free. You will be able to see your children's internet history, read their messages, or block certain calls. In conclusion, you could also check their social networks and see all their activities, with whom they talk, they disclose personal information, etc.
Unaware of the dangers
Children are often unaware of the dangers of using the Internet. They easily give far too personal information to people they don't know. This exposes them to dangers such as harassment or kidnapping. As a parent, you have a duty to monitor your children online. This is to protect them from anything that could be harmful to their education, or to their lives.
FREE PARENTAL CONTROL: CHOOSE SPYFER SPYWARE!
You want to watch your child and make sure everything goes well in his life? Would you like him to not see the disturbing content that currently exists on the Internet (adult sites, betting sites, violent advertisements, etc.)? In this case, it is time for you to use a free child surveillance software. This will allow you to do free parental control on everything your child does on the internet. Free child monitoring softwares like Spyfer will also allow you to check your child's phone. If you'd like to learn more about free parental control, how to monitor your children for free, and what options you can do with free child monitoring softwares like Spyfer, please keep on reading…
WHAT IS PARENTAL CONTROL?
For starters, parental control, also known as parental screening, is a system that allows parents to deny their children access to media. The latter can be found on the Internet, in television or in game consoles. Some devices have a free parental control. In other words, the parent does not need to download a parental control software, just configure the computer, TV or game console. However, in order to better monitor their children online, many parents prefer to be extra careful and use a child monitoring software, free or not.
The installation
For a free parental control on the phone, you can immediately opt for a free spyware like Spyfer. In addition to giving you the classic features of parental control (blocking websites and apps, inserting passwords, etc. ), the free child surveillance software will also allow you to spy on your child's phone and see everything he does, whether it be on social networks, on phone calls and messages, on emails, on the internet, etc. The software is compatible with all the smartphones on the market, or almost.
HOW DO I PUT PARENTAL CONTROL ON A CHILD'S PHONE?
Now you are convinced of the benefits of parental control on a child's phone. However, you have no idea how to put parental control on your phone, which software to choose and what budget to reserve for a free child monitoring software. Don't panic! Read on to learn more about free parental control or not…
First of all, to put parental control on a child's phone, you do not need the child's permission if he or she is still a minor and therefore entirely under your care. Indeed, monitoring your children online remains perfectly legal in the eyes of the law (be careful however to respect their privacy), the only constraint lies in the fact that your child may be able to badly see the spying that you do. If you are concerned that installing free parental controls may damage your relationship, talk to them in advance so they understand your reasons.
On a smartphone, it is very easy to put a parental control software. Simply sign in to your Playstore or Apple Store account and type Parental Control. There you will find a large number of applications that offer to perform parental control on your child's phone. Some of these applications may be paid or free. However, if in addition to parental control, you would like to monitor your children for free, type spyware instead. Indeed, with spyware, you will be allowed to do many more things than with a simple parental control application. On the budget side, it's up to you how much you can reserve to keep an eye on your children's activities. However, parental control applications are often available as a free version. Spywares come at a premium most of the time. Nevertheless… as there are always exceptions. Spyfer Spyware is completely free and has all the features that a spyware and parental control software can have.
WHAT CAN BE DONE WITH SPYFER FREE PARENTAL CONTROL?
With Spyfer free parental controls, you can do many things when it comes to phone spying:
Monitoring social networks
With Spyfer, monitor all your children's social networks, be it Facebook, Spy Snapchat or Instagram. You have the possibility to watch publications, subscriptions, private messages, photos or videos. Also, be aware that Spyfer also allows you to read instant messaging applications.
Monitoring your children for free with Spyfer means having access to all your child's calls and messages. Also look at his repertoire, his agenda and block questionable contacts…
Monitoring Internet activity
Also, thanks to Spyfer, watch your children's internet activity, whether it's history or bookmarks. You can block access to certain sites in advance.
Finally, Spyfer allows you to look at your child's location and establish danger zones as well as safety zones. You will know where your children are used to going and you will be alerted as soon as they go into the red zone.